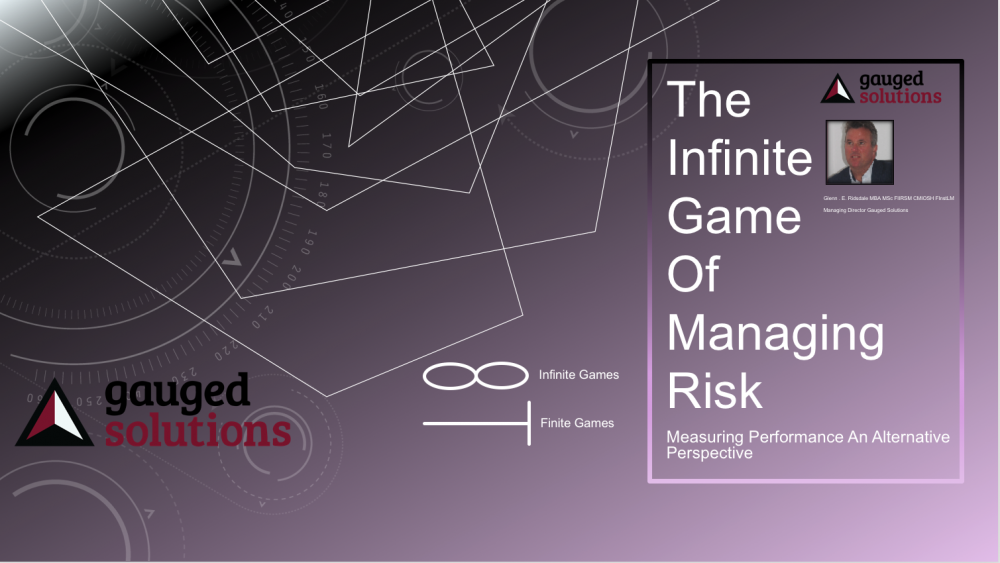 Glenn Ridsdale, MD of Gauged Solutions, was delighted to be invited to deliver a webinar titled The Infinite Game of Managing Risk to the East Anglia Branch of IIRSM in January 2023.
Commenting on the subject, Glenn said:-
"Whilst nobody suggests that managing risk is a 'game' it is clear that how we measure our performance in the world of risk management is often based on finite thinking. In providing effective monitoring, assurance and governance for companies many are primarily focussed with vision zero....zero harm, zero RIDDORS, zero LTIs and so on.
Whilst vision zero is a healthy aspiration it has, in some cases, become an unhealthy obsession. Corporate reports that highlight both lagging and leading indicators may identify trends and statistics, but how many actually identify how the performance has been achieved?
This webinar has been designed to provoke thought in understanding the concept of an infinite mindset in easuring our performance, referencing a number of articles and reports associated with effective assurance and governance, to provide assistance to both C-Suites and risk management professionals alike".
Since the webinar a number of companies have approached us to deliver this to the Board of Directors and help to develop more effective KPIs and tools to monitor and measure risk management performance.
Access to the webinar can be obtained at IIRSM East Anglia Branch - The Infinite Game Of Managing Risk - YouTube
For further information in relation to monitoring and managing risk or our wider services and how GSL may help your organisation, please contact us at enquiries@gauged-solutions.com or 07425 160071.