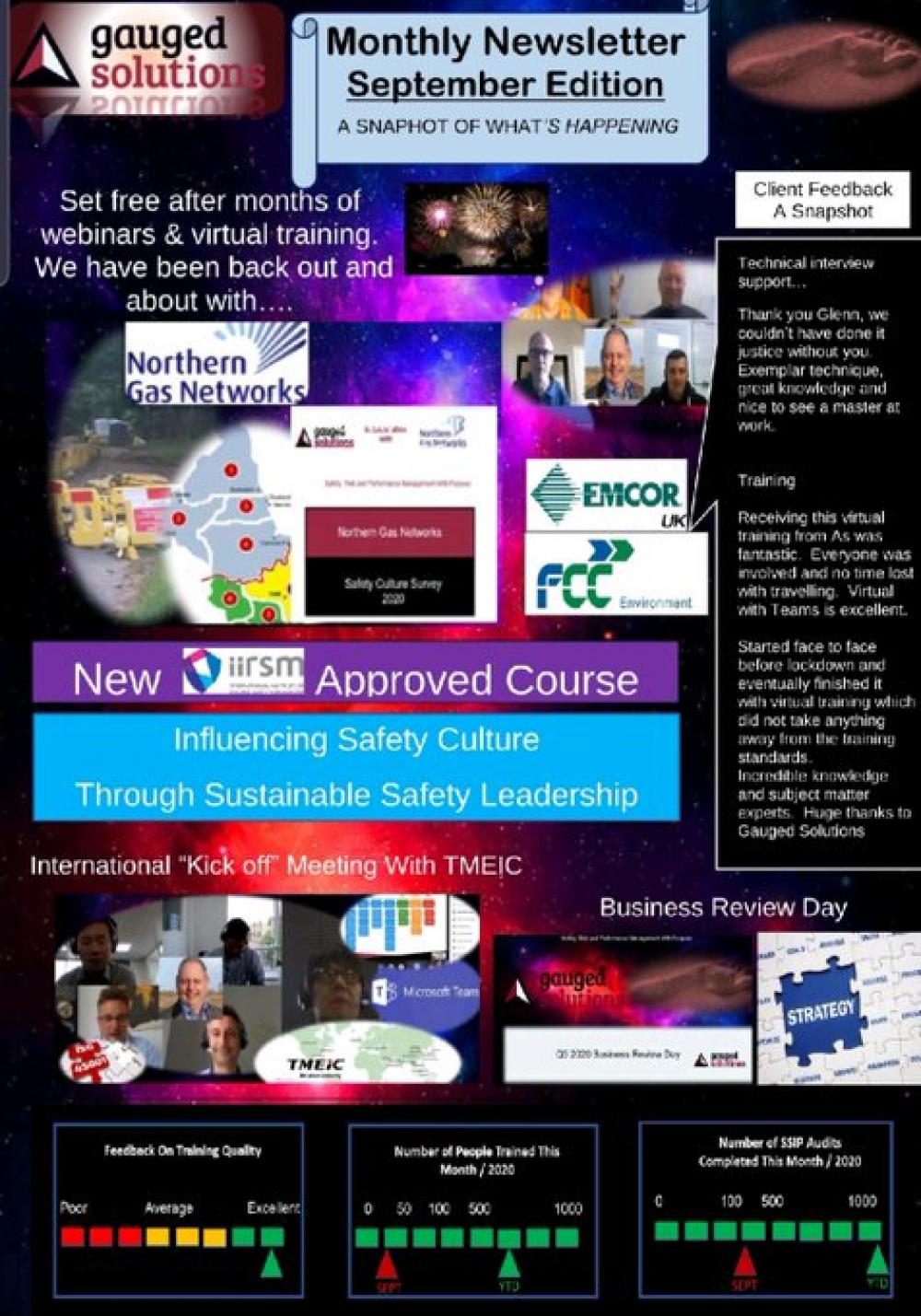 In Anglo-Saxon times September was called Gerst Monath (Barley Month) or Haefest Month (Harvest Month) when farmers celebrated the barley harvest and the hard work they had invested throughout the year but immediately started planning for the years ahead.
Similarly, September for Gauged Solutions was a time to reflect on the year to date with our Business Review Meeting and look ahead to Q4, 2021 and beyond, whilst at the same time continuing to provide our diverse range of services to our clients.
Continuing to deliver a range of accredited courses through virtual technology, assisting clients on technical interview panels for senior management appointments, business meetings with clients as a prelude to delivering new leadership training and auditing programmes in Q4 and 2021 and being part of the judging panel for IIRSM Annual Risk Management Awards, September has indeed had 30 days full of activity.
Continuing the farming theme, a particular highlight was being "back in the field" i.e. leaving the desk and computers behind to meet with keyworkers right across the North of England to witness the excellent commitment, passion and safety-focus of workers and management in the utilities sector as part of a comprehensive safety culture review.
Following on from last month's launch of HSE/NEBOSH Introduction to Incident Investigation – to add to our strong portfolio of "in-house" training for companies - we were also delighted to announce 2 new courses:-
IIRSM Influencing Safety Culture through Sustainable Safety Leadership
Designed by Gauged Solutions and accredited by IIRSM this 1 day course is aimed at existing or prospective C-suite executives, managers, senior supervisors and senior engineers whose roles demand sustainable safety leadership, symbolic safe behaviour and coaching skills to transform, maintain and/or influence an organisation's safety culture and behavioural change
Pollution Prevention & Spill Response
This 1/2 day course is designed to be an ideal introduction for pollution prevention and spill response teams or environmental management teams, particularly within construction and manufacturing
For further information on any of the above or enquiries regarding our services please contact glenn@gauged-solutions.com or on 07425 160071.