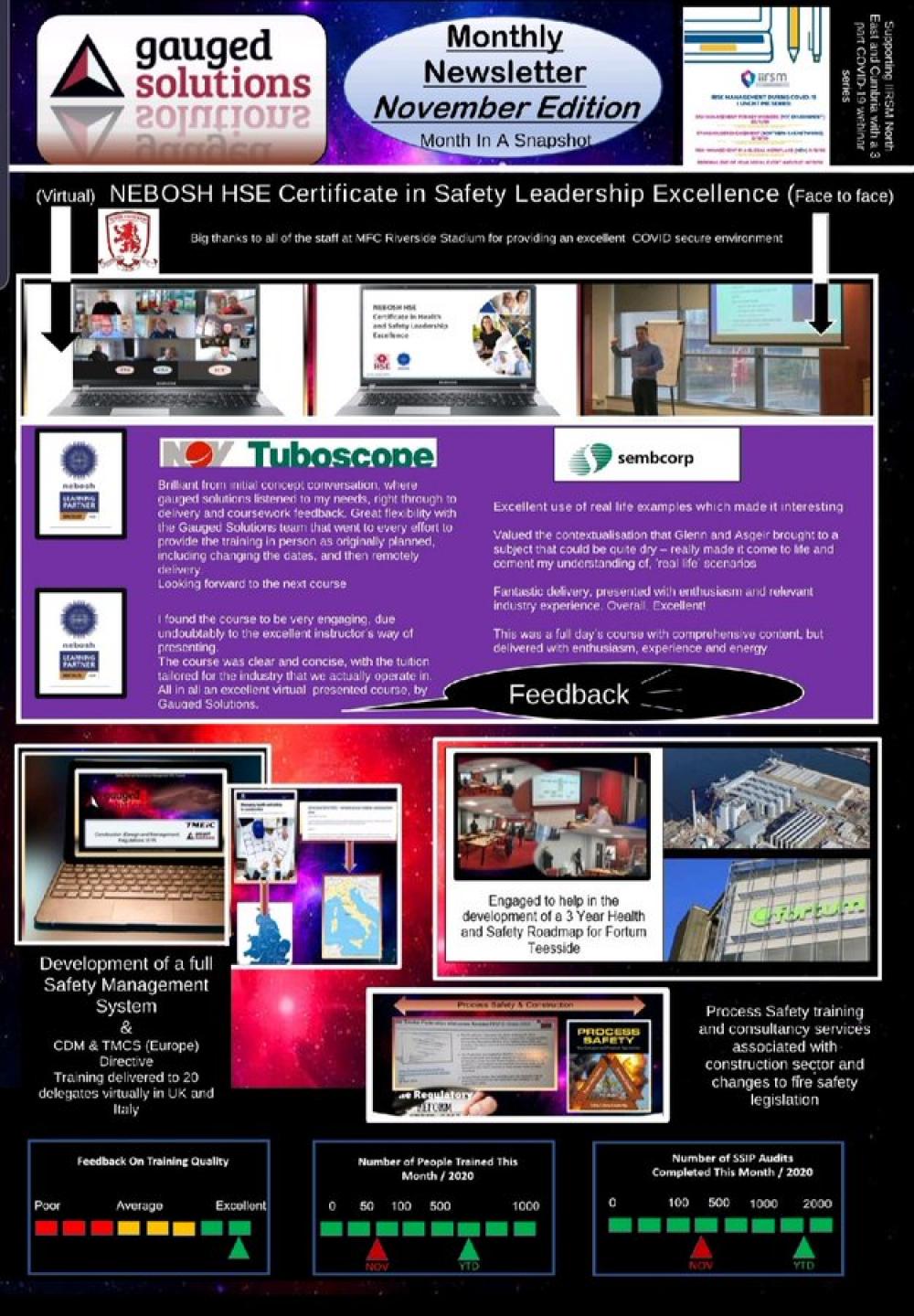 After a sustained period of working at "arm's length" from our clients, through virtual training, consultancy and business development meetings, we were delighted to be able to return to "face-to-face" consultancy and training with clients, with all appropriate COVID-secure arrangements in place.
Many thanks to Middlesbrough Football Club for the use of their excellent facilities and brilliant staff that enabled us to deliver our services to 2 major Teesside companies.
Firstly, it was a real pleasure to deliver the NEBOSH HSE Certificate in Health & Safety Leadership Excellence Course to Sembcorp's senior leadership team as the forerunner to a comprehensive training programme for both their maintenance and operations teams including IOSH Managing Safety® and IOSH Working safely courses to be completed in December 2020 and Q1 2021 by GSL. The feedback for the course included:-
"Excellent use of real life examples which made it interesting".
"Valued the contextualisation that Glenn and Asgeir brought to a subject that could be quite dry – really made it come to life and cement my understanding of 'real life' scenarios".
"Fantastic delivery, presented with enthusiasm and relevant industry experience. Overall Excellent!".
Secondly, GSL were also delighted to be working alongside the Fortum senior leadership team and facilitate two comprehensive days to develop their 3 year "road map" for the next stages of their safety plan for the Teesside Renewable Energy Plant, the world's largest newbuild dedicated biomass plant. Not only were we able to create a safe and productive environment at The Riverside Stadium for those in attendance but also, of critical importance, link in virtually with both the operations and corporate teams, thereby ensuring effective collaboration and continuity.
Demonstrating GSL's ability to deliver training through a variety of mediums, we also delivered the NEBOSH HSE Certificate in Health & Safety Leadership Excellence Course to NOV Tuboscope virtually, with equal positive feedback:-
"Brilliant from initial concept conversation where GSL listened to my needs, right through to delivery and coursework feedback. Great flexibility with the GSL team that went to every effort to providing the training in person as originally planned, including changing the dates, and then remote delivery. Looking forward to the next course".
"I found the course to be very engaging, due undoubtedly to the excellent instructor's way of presenting. The course was clear and concise with the course tailored for the industry that we actually operate in. All in all an excellent virtually presented course by Gauged Solutions".
Furthermore, we also virtually delivered the NEBOSH Introduction to Incident Investigation course to one of our valued construction clients, enabling project managers to better understand the methodology and importance of investigating a range of incidents to improve the on-site safety culture.
Continuing with the development of a bespoke health and safety management system for a major client we also successfully delivered CDM2015 training to their leadership and project management team including colleagues from the UK, Italy and Japan to supplement their knowledge and understand the integration of policies and procedures to meet with the legal requirements.
For further information on any of the above or enquiries regarding our services please contact glenn@gauged-solutions.com or on 07425 160071.