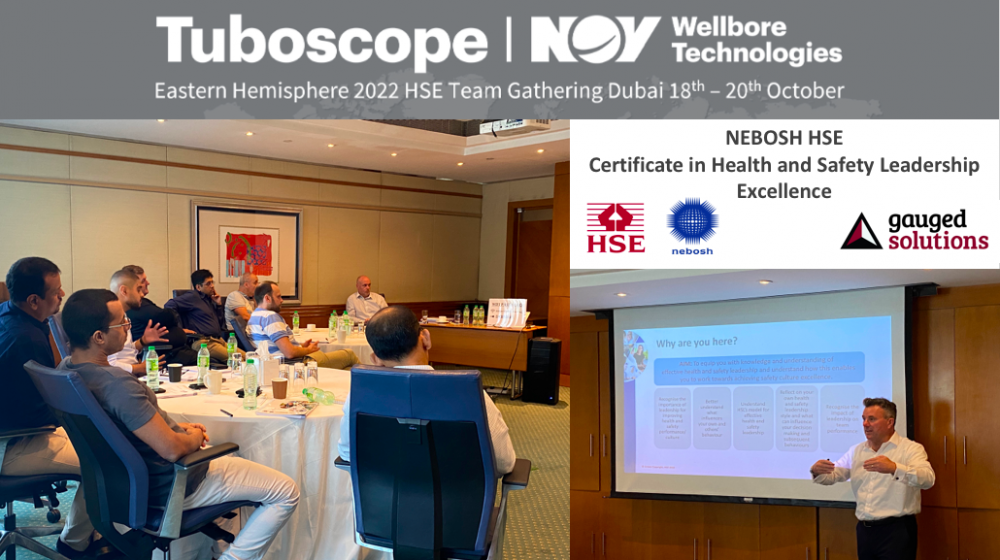 The GSL team were delighted to be working in The Middle East in October 2022, delivering the NEBOSH HSE Certificate in Health & Safety Leadership Course to the NOV Tuboscope HSE Team who support their operations in the Eastern Hemisphere.
Commenting on the training course, Derek Dixon, HSE Director (Eastern Hemisphere):-
"Part of our sustainability commitment is to align our safety programmes at a global level, within business segments and regions.
At NOV we fully recognise the importance of leadership within the business, in driving and sustaining our health and safety culture.
We also recognise that our EHS Team are fundamental in supporting our operations in delivering these aims.
As such, we organised a 3 day Eastern Hemisphere 2022 HSE Team Gathering, with the NEBOSH HSE Certificate in Health & Safety Leadership Course at the heart of the programme.
Our aim is to roll out the programme to our operational leaders throughout the region but we realise that our HSE team need to undertake it first so that they fully understand the content and are able to support the programme within their particular operations.
The course focusses on key skills required by all leaders in organisations to influence positive health and safety cultures which are not included in typical programmes.
Having worked with Gauged Solutions for several years, we knew that they would be the right company to deliver the training across our multi-national and multi-cultural team and make the course thought-provoking, challenging yet enjoyable at the same time.
I fully recommend this course and Gauged Solutions to companies seeking to drive their health and safety culture forwards as it highlights the key skills and traits of leaders to influence the right behaviours and right culture and challenges us all as to how we can improve."
For further information on the NEBOSH HSE Certificate in Health & Safety Leadership Course our wider services and how GSL may help your organisation, please contact us at enquiries@gauged-solutions.com or 07425 160071.