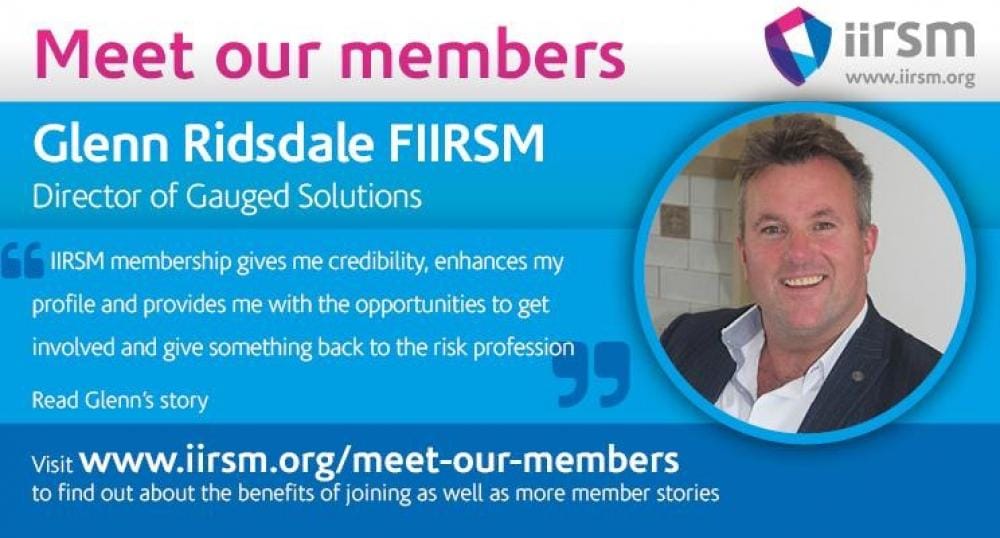 "IIRSM membership gives me credibility, enhances my profile and provides me with the opportunities to get involved and give something back to the risk profession"
As a young electrical technician in the Royal Air Force, Glenn's early career enabled him to build a solid foundation in both occupational and technical risk management through understanding complex safety systems, human factors and the true meaning of effective leadership. With more than two decades of senior management experience in various industries including construction, power transmission, oil and gas, aeronautical and petrochemical, he joined IIRSM because he believes in the concept of risk management rather than safety management as a silo.
"Safety is one of many risks that a business and its people need to manage, and whilst safety is of course important, there are so many more risks an organisation, and in some cases individuals, need to control, including financial, wellness, HR, operational, behavioural, security and cyber risks," he explains. "In order to build rapport as a professional working in the field of risk, we need the skills to understand different perspectives, rather than being one dimensional. I think IIRSM makes superb efforts to bring these concepts together."
Glenn has been a member of IIRSM for more than 15 years and is the regional chairman for the North East and Cumbria Branch. "Although business takes me all over the world, I am delighted that with colleagues we have been able to help to raise the profile of our region, where there is so much going on and so much talent within the IIRSM North East and Cumbria members."
Glenn's company, Gauged Solutions, won the Barry Holt Award for Outstanding Risk Management Practice in our inaugural Risk Excellence awards, achieved thanks to his collaboration with waste giant Suez to develop its 'Safety In Mind' programme, which has been both the catalyst and umbrella for significant positive change within the business that has extended from safety management into overall risk management. "The awards were a great platform to share our success," he says.
Glenn has recommended IIRSM membership to colleagues countless times: "It's perfect for my needs – the updates in both magazines are great and are difficult to separate – I use examples from the literature to build into training packages or discuss with senior colleagues.
"As well as all the membership benefits, the IIRSM team are really helpful and interested to hear what we as members have to say," he adds. "They are open to new ideas, fresh concepts and consistently break away from traditional thinking. Too often people, institutions, businesses and organisations are not willing to embrace change where needed, but IIRSM breaks that mould."
If you are going to join IIRSM, make sure you get involved and make the most of your membership, encourages Glenn. "That doesn't necessarily mean chairing a region – try to attend the conferences, branch seminars, visits in your region. Try to get to national events and network with people. Read and digest the literature and use the information from it in your day job."
If you don't, he warns, you'll simply have a card with good credentials sitting in your purse or wallet, only coming out once a year to be replaced. It is up to the individual to get as much or as little from their membership as they can, and Glenn prefers the 'as much' option. "IIRSM membership gives me credibility, a fantastic amount of useful information, it enhances my profile and provides me with the opportunities to get involved and give something back to the risk profession," he adds.